RUSSELL HOBBS MILESTONES
At the heart of homes, now and then
Our story began in 1952 when Bill Russell and Peter Hobbs teamed up to transform kitchens across Britain. Their vision was simple: to create products that make home life easier and more enjoyable. The first automatic electric kettle was one of many groundbreaking innovations from Russell Hobbs.
Today, we continue to put people at the heart of what we do. By being closer to you, we gain the insight to design things better. From innovative touch control technology to removable, dishwasher-safe components, our products are packed with real solutions that help people enjoy home life – because that's what matters most.
On our 60th anniversary, Russell Hobbs is proud to be the number 1 small domestic appliance brand in the UK. Our reputation has spread across Europe and continues to grow worldwide. We enjoy a cherished place at the heart of homes everywhere.
1952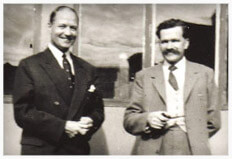 Bill Russell & Peter Hobbs establish 'Russell Hobbs' and the first coffee maker with keep warm function, the CP1.
1955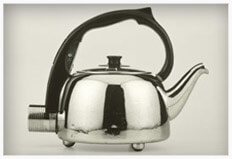 The K1 kettle is invented as the world's first ever automatic electric kettle.
1967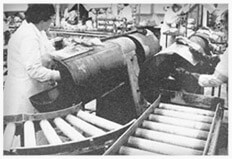 Production exceeds one million appliances.
1975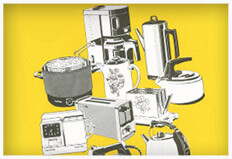 Russell Hobbs produces over 5 million products.
1977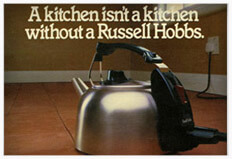 Recognised as the world's leading kettle producer and UK No.1 for coffee makers and toasters.
1980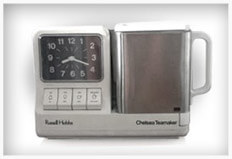 Chelsea Tea Machine introduced, with revolutionary single pot system.
1995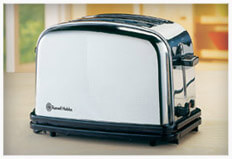 Classic toaster is launched and soon becomes the UK's best selling iconic toaster. It is now the best selling toaster in history.
1996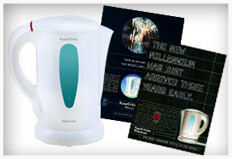 Millenium kettle invented with a British made, OPTEC disk and becomes the fastest boiling kettle.
2000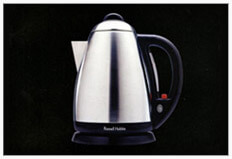 Montana kettle first produced and becomes the best selling kettle in the UK.
2004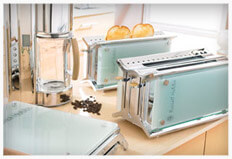 Award winning 'Glass' range launched.
2005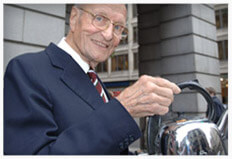 Russell Hobbs celebrates it's 50th anniversary of the K1 kettle.
2008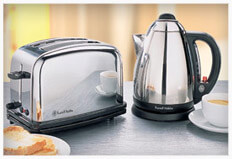 Montana Kettle and the Classic Toaster break through the 4 million sales barrier.
2010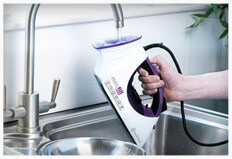 Russell Hobbs launch 'Easyfill' - a unique steam iron which has a special back-filling base for water.
2011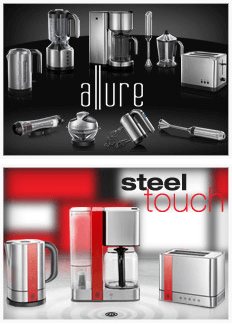 Russell Hobbs launch the new Allure range which is our first ever fully co-ordinated breakfast and food preparation range.
Steel Touch is launched, introducing the world's first innovative Steel Touch Control breakfast range which is combined with designer red looks.
2012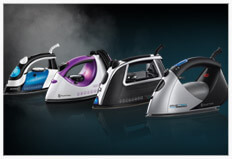 After becoming the No.1 iron brand in the UK. Russell Hobbs launch the successful unique and innovative range of irons into the rest of Europe.
2013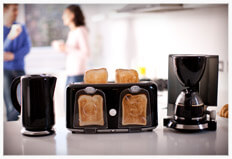 Introducing more consumer led innovation with the Easy Breakfast Collection.
2015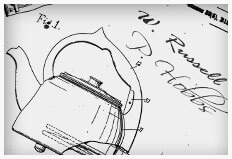 To celebrate 60 years of innovation, style & design Russell Hobbs presents the Legacy breakfast collection.
Help & Advice
Customer Services
Company