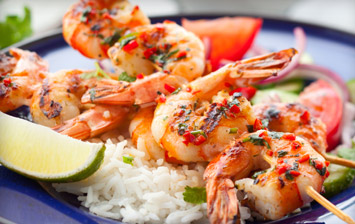 Ingredients
1kg raw prawns
3 tbsp extra light olive oil
4 cloves garlic, slivered
4 spring onions, sliced
160ml sweet chilli sauce
125g snow peas, trimmed
Steamed rice

Method (Serves 4)
Pour just enough olive oil into a sauté pan to coat the surface.
Heat the pan to a moderate temperature and cook the prawns in batches, allowing about 30 seconds each side. Set them aside to keep warm.
Add the remaining oil to the pan, sauté the spring onions and garlic until onions are transparent.
Carefully pour in the chilli sauce, add the snow peas and cook for only a few minutes, tossing the pods constantly.
Return the prawns to the pan toss together and sprinkle on the herbs.
Serve on steamed rice and asparagus spears.