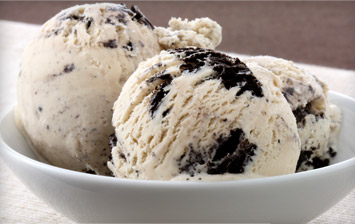 Ingredients
125g chocolate ripple biscuits
600ml chilled cream
63g icing sugar
½tsp vanilla

Method (Serves 4)
Place the chocolate biscuits into the blender. Using the Pulse button, process to the consistency of coarse crumbs. Transfer to a small bowl.
Pour cream into the blender jug and add icing sugar and vanilla essence. Blend on Low speed until just mixed.
Blend on High speed for just a minute or two until cream thickens, but is still pourable, and then stir through the biscuit crumbs.
Pour into a suitable container, smooth surface, cover and freeze for up to 2 hours or until firm enough to scoop.
Scoop onto serving plates, pour on chocolate topping, and enjoy!